Barry Watton Shares His Monthly Gardening Tips For November
Created: Thursday, 08 November 2018
Written by Christophe GUAY
Since moving into our new home in Voulême a month or so ago, things have now started coming together and I am ready for business. So it's the perfect time to start the blog and let you know what my plans are for it.
Gardening in France
I am new to the Vienne department in France and whilst I feel that my horticultural experience and preferred selection of plants will be adapted to suit the conditions here, I still have much to learn about the soil, the weather and landscape vernacular here. I am expecting to have some planting failures as well as successes as I learn more, but I guess that is part and parcel of the fun of gardening.
Communication
I hope that people reading this blog will use this platform as a two-way communication channel and that gardeners in the region will be able to put me on the right track where I have gone wrong! I will also be asking you for your input and advice also from time to time as I settle into my new business here and am still finding my feet with suppliers etc.
Monthly Jobs
The blog will also serve as a reminder, month-by-month, of the routine jobs that need to be done over the course of the year, which I hope will be of some help to you. As spring starts a little earlier here in this part of France and summer lasts a little longer, when compared to the UK, it will be of interest to me to see how ahead/behind the UK we are here in terms of the gardening calendar as the seasons progress.
NOVEMBER GARDEN TO DO LIST :
The garden is now winding down into its winter dormancy, but this does not mean there is nothing to do in the garden this month.
Plant tulips-
Plant your tulips in the ground now. It is said that the colder conditions of November reduce the risk of your tulips developing tulip 'fire', a fungal disease that spoils the appearance of your prized tulips. If you have not yet planted any of your other winter/spring bulbs, do it now – better late than never!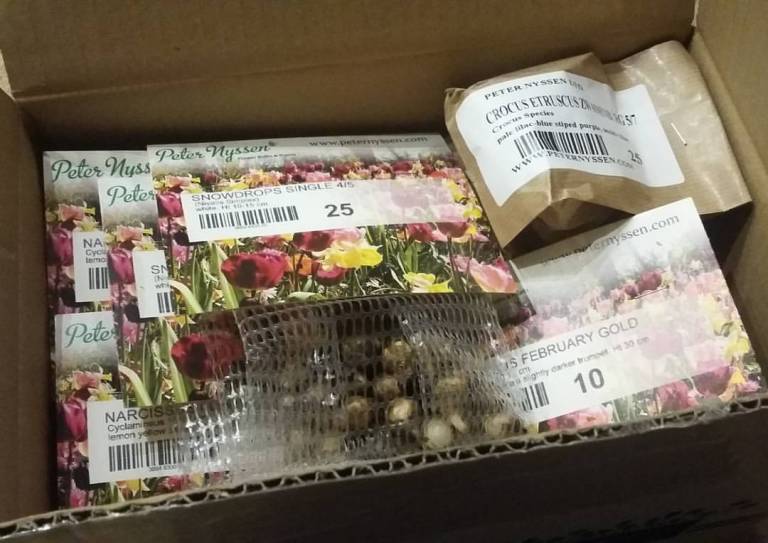 Dahlias –
Continue deadheading until the frosts arrive and the foliage is blackened, then cut the stems to the ground. Traditional advice is to lift the tubers, allow them to dry and place them in a low nutrient, potting-style compost in a cool, dry storage area. However, in Bristol where I lived and trained conditions were sufficiently mild that tubers could be left in the ground over winter provided they were heavily mulched. Mulch when the ground is dry and the mulch should provide an effective barrier to heavy winter rain. It is typically rot caused to the tubers by continual wet autumnal/winter weather which causes the demise of dahlias, rather than the winter cold, but I wonder whether the same is true of the Poitou-Charentes area. Lift, or leave, what is your experience? Do let me know.
Cannas –
It is a similar story here. In Bristol we would leave them in the ground and mulch. I haven't yet experienced a full-blown winter in the Poitou-Charentes. My instinct says to leave and mulch as with the Dahlias above, but I'd appreciate any advice any of you can give on this point.
Remove hellebore leaves –
Remove all leaves from your Hellebores (with the exception of Helleborus foetidus). The reason for this is two-fold: (1) there is no foliage to obscure the beautiful flowers that appear in winter, and (2) it helps to manage/eradicate the appearance of leaf spot (a fungal disease) from next year's foliage.
Fleece and pack tree ferns and bananas –
If you grow your tree ferns and bananas in pots bring them under cover. However, if you leave them in the ground they will need protection from the cold winters experienced here. Tree ferns should be wrapped in fleece and the crown (the growing point at the centre of this year's fronds) packed with straw. Banana foliage should be removed and the stem similarly wrapped, see here.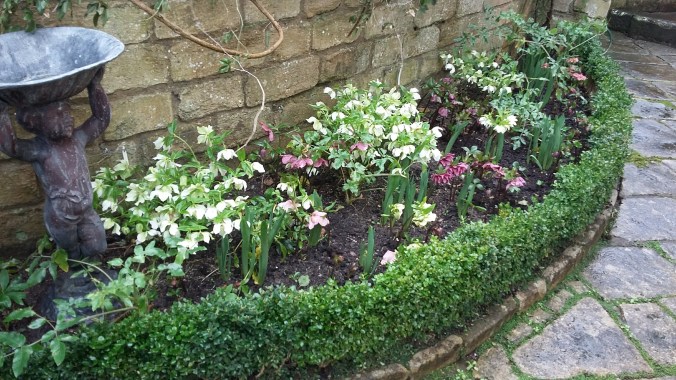 Lawns –
Early in the month the lawn may still be growing. Keep mowing until growth ceases and continue keeping it clear of leaves. The leaves may either be added to the compost heap, or blown deep into flower beds to allow for decomposition in situ.
Enjoy the autumnal colours –
November is the peak month for autumn colour.

For more information and to contact Barry Watton you can do so via his website : www.lejardincontemporain.com